It's often difficult to understand how your portfolio of projects is actually helping your organisation deliver to its strategic goals. The problem is that the projects in the portfolio often don't play a part in ensuring the overall portfolio is easy to navigate and cohesive. You need linchpin projects in your portfolio to hold the others together.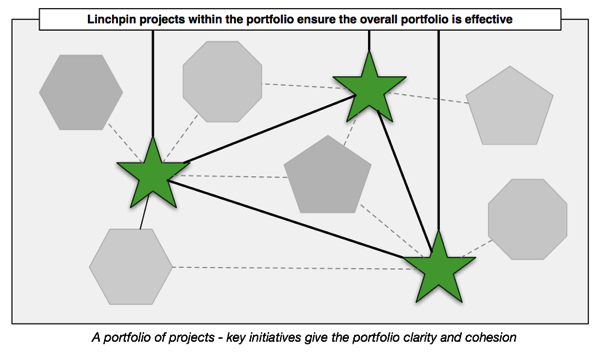 Linchpin projects are different to other projects in the portfolio. Linchpin projects don't have a business case in the traditional sense – because they are strategically placed into the portfolio to hold it together, identify risks across the portfolio, and steer cross-project decision-making.
Linchpin projects are value-seeking initiatives that raise the value of the entire portfolio. In fact, linchpin projects represent the new normal for combining operations and program management in the digital economy.
Your current portfolio 
Your current project portfolio is probably made up of three types of projects:
That subset of projects that had a strong enough business case to make the cut at the expense of other projects
Projects that your organisation almost left too late, so are now critical – or projects that unanticipated changes in your operating environment have recently made critical, urgent, or "must haves"
Big, chunky, game-changing programs that have been initiated following a strategic analysis & planning process. These are often more of a top-down prioritisation of investment rather than a fully formed project, until a more comprehensive analysis of the full impacts is performed
The decisions that initiated each of these projects aren't always perfect. But you have no choice but to plunge ahead with the projects. However, each of these types of projects presents challenges to the management of your portfolio as a whole:
You selected some projects at the expensive of others – but when and which of those forgone projects will become your next critical projects?
Critical projects that have now become urgent will need to take shortcuts – but what ensures these projects understand the shortcuts that are available, or to plan the follow-on work required when the projects are complete?
Strategic projects represent investment priorities which will have the greatest impact on your customers, asset utilisation, and business performance – but how do you incorporate the best knowledge you have of what influences these into the strategic project's planning and execution? (Without putting all other projects on hold!)
Major projects versus linchpin projects
It's a mistake to think of your major projects, or your strategic projects, as your linchpin projects. Major projects are often run as exceptions, so the transformational impact of these projects is often limited or followed by organisational fatigue or regression. Linchpin projects on the other hand inject specialised disciplines into the portfolio and in many cases don't need to be large investments.
However, there is an opportunity for your major strategic programs to host a number of linchpin projects to get them started. The trick is knowing which linchpin projects you need…
Which linchpin projects do you need?
Regardless of your organisation, the following linchpin projects should be in your portfolio. The characteristics of your organisation and current strategic direction will only impact the size and approach for each of these initiatives.
Project 1. Business capability based governance 
Our organisations shouldn't have a primary governance model that divides the organisation into functions and then constantly proliferates the need for cross-functional teams. Social enterprises don't require this approach – so your organisation's primary governance should be mapped to business capabilities, not functions. This is also the first step in ensuring "business/IT alignment" – by stripping back the historic and arbitrary separation that is the root cause of misalignment.
Project 2. Customer journey design & customer experience campaigns 
If you can't point to artefacts which describe an idealised view of how your customers experience your organisation, then you haven't done enough thinking about your customers – and you have nothing to orient your organisation towards customer outcomes. Equally, if you can't point to specific customer-facing processes, technologies, and metrics that continuously direct the resources of your organisation towards reenforcing positive customer experience and recovering bad customer experience – then your customer journey design is just sitting on a shelf!
Project 3. Asset life-cycle, utilisation, yield, and pricing 
Airlines, hotel chains, mining companies, and farmers understand yield. They understand that large expensive assets must be effectively carved up to service the right customers, at the right time, and for the right price. In the digital economy this same process must be applied to every organisation's assets. If you don't understand the utilisation on your major assets, and how projects can impact this, then you are running a business that provides a higher cost product – or your are running a unsustainable business.
Project 4. Core shared data strategy, information asset governance, and decommissioning 
Unmanaged, the information in your organisation can get out of control. We have access to so much technology – information technology – that is supposed to help us manage information. So why are there so many copies of the same documents? Why can't we rely on information we receive from other departments? And what is cut-and-paste if not investment in the problem instead of the solution? The solution is to systematically discover and invest in information assets across their end-to-end lifecycle – focusing in particular on the "core shared data" that is key to coordination across business units. Oh, and don't forget you can't ever throw data away unless you know what it's worth (i.e. Business value) – but some data you can't afford to keep (i.e. Privacy Act).
Project 5. Combined process, information, and user forums – fit-for-purpose scorecards
Your employees know what is wrong. But there are few mechanisms for feeding that learning into operational improvement initiatives. Lean and Six Sigma ™ come to mind – but that's just details. Whenever your process team talks to people who should be following processes – capture the reasons why they're not! Whenever you find yourself questioning a decision an employee has made – capture the missing information that caused the wrong decision to be made! Whenever somebody throws their keyboard across the room – ask them why! Better still – combine all of this into a single session which uncovers what is wrong around this place.
Project 6. Innovation funnel, lean business case, and start-up support 
Innovation, or rather an entrepreneurial culture, starts with hiring entrepreneurs. But what if you can't keep them? There are three reasons you can't keep them: 1. You don't recognise the good ones – because you don't have an innovation funnel. 2. You frustrate them – because there are too many barriers to implementing business cases for change. 3. They can get better, cheaper start-up support in the market. These things are easy to fix and can be funded to the extent that you value innovation.
Project 7. Voice-of-the-customer operational alignment – Customer Return on Operations
It's pretty easy to gather basic voice-of-the-customer data. For example, you can just asked the simple "How likely are you to recommend us to your friends? And why?" questions at the heart of Net Promotor Score (NPS). The hard part is doing something about it. You need to systematically determine what parts of your operations have the most impact on your customers. Management of "customer return on assets" will tell you most of what you need to know about how your projects are impacting your performance – from your customer's perspective.
Project 8. Competency centres and change levers – The Machinery of Business Transformation 
There are two ways to transform your organisation: you could run a heavy transformation program, and then an even heavier organisational change management initiative – and hope you get both right. Alternatively, you can manage to a transformation agenda – vision – and a portfolio of integrated competency centres – collaboration and continuous improvement towards that vision. If you know your own organisation's portfolio of competency centres, their service catalogs, their customers, and the most effective channels and levers of change for your particular organisation, then implementing your whole project portfolio, and avoiding unintended consequences, becomes much easier.
Project 9. IT federation: shrinking corporate IT and embracing shadow IT
Even with your primary governance now focused on business capabilities (see Project 1) you still need to manage IT. But the difference is you need to manage all IT, in the only way you can in a post-Cloud, outsourced, and BYO world – federated IT. Learn to manage IT without ignoring what is out of your control and you'll revolutionise productivity within your organisation while spending less than you did on IT services, architecture compliance, and generally inconveniencing your stakeholders by trying to be the cost and standardisation tzar.
Project 10. Who are we: purpose, culture, communications, and performance 
Engage, decide, communicate. There is always another opportunity to reinforce what makes your organisation unique. There are ways of doing this that improve performance. Try them.